Last update: 02/18/2005
Introduction
EmiFreq applet is just a little applet for the Gnome 2 desktop to show and control the CPU frequency scaling for laptops thanks to the CPUFreq /sys interface of the Linux Kernel 2.6. It follows the basic principles of the Gnome desktop, such as ease of use and ergonomics. To get a first impression of it, you can look go to the screenshots section. This software is licensed under the GNU GPL 2 or later.
News
02/18/2005: release 0.18, with support for the on-demand governor and some HIG/backend fixes.
09/20/2004: release 0.17, with a potential crasher fixed, a popup positionned like a traditional menu, and no more debug spews.
09/14/2004: release 0.16, with fixed display/setting of frequency for driver sorting the available frequencies in a different order and fixed preferences menuitem hiding
09/13/2004: release 0.15, with a better icon for performance governor on vertical panels, no more preferences to change the update interval in the preferences dialog (use the gconf key) to mimic wireless applet behaviour and have a better desktop integration and supports more drivers, and especially PPC, which may prevent a crasher for ppl not having the avail_frequencies file
09/13/2004: release 0.14, with a fix for a crasher when you only have one governor available
09/12/2004: release 0.13, with a fix a really dumb error introduced in last release and added debug spews to track down crashers
09/12/2004: release 0.12, with a fix for people not using the performance governor as their default one
09/11/2004: release 0.11, with a lot of bugs fixed, especially fixed some dumb logic when adding entries in the menu, plus update the menu when necessary and finds temperature location more reliably in /proc
09/10/2004: release 0.10, with a potential bug fixed, i18n everywhere, better wording and a preference to display temperature in °F,
07/27/2004: release 0.9, with all known bugs fixed, i18n with a French translation
07/27/2004: release 0.8, with a polished IPC / daemon behaviour
07/26/2004: release 0.7, with a new N/A mode if CpuFreq support is down
07/26/2004: release 0.6, with support for a "read only" mode
07/26/2004: release 0.5, with bug fixes and structural changes
07/25/2004: release 0.4, featuring support to modify the speed through a daemon, and better support for vertical panel and real error reporting
07/22/2004: release 0.3, with gtk features tester applications
05/26/2004: release 0.2, featuring nice support for vertical panels
05/25/2004: initial release, lacks profile performance switchability
Download
The following table will eventually show the different packages available for download:
Older releases can be found in the archive directory.
Screenshots
Here are the necessary screenshots:
| | |
| --- | --- |
| Emifreq with a custom frequency and temperature shown in the tooltip | EmiFreq using the performance governor and showing temperature next to the icon |
| | |
| --- | --- |
| EmiFreq on a vertical panel. Note the gauge is rotated counter-clockwise. | The EmiFreq applet menu to change speed thanks to the emifreqd daemon. |
Here is the preferences dialog:
Here is the about dialog: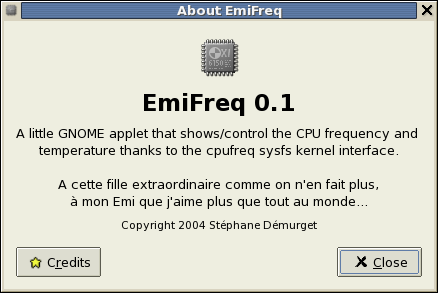 | | |
| --- | --- |
| | Note: This one may sound silly to be here, but even though it could be thought as very typical, it's not at all |
TODO
Here's the TODO list as of the 0.18 release, sorted by priority:
Multiple processors support.
Better size handling.
Full a11y, help supports.
Email
You can contact me to ask for features, report bugs to fix, help with translations or packages, if you have trouble making it running or just to send me your remarks at the following address : stephane.demurget (at!) free.fr. Sorry, you'll have to replace "(at!)" by the "@" symbol. This is just for me to avoid spam.